My name is Cameron Morris Weber, below you will find some personal information about me. This a recent short biography I did for a publisher.
I was born in Chicago and when I was growing up I lived with my family in various parts of the Midwest USA (Chicago, Minneapolis, Omaha). We moved to a small town in New Mexico when my Dad was fed up with corporate America and bought and built-up a business or two in NM. I worked for my family businesses during high school and college when school wasn't in session. I have helped my parents for many years now in their various entrepreneurial ventures and they in mine.
I left home in New Mexico to go to college in New Orleans, a city I still love and try to visit as much as possible. I have lived in the Sunset Park neighborhood in south Brooklyn for the past 7 years (I have been for the last couple years on the Coop board, specifically working on capital projects). Here is a photo of the skyline from the Park, and you can see downtowns Brooklyn and Manhattan. I moved to New York in order to study economics and history full-time.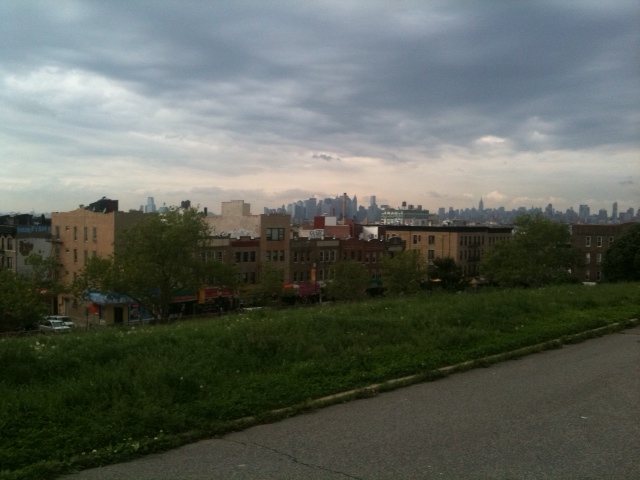 We've been having alot of snowstorms lately, here is one from my window:
I received a dual PhD in economics and historical studies at the New School for Social Research in Manhattan in August 2015, where we also created a new field called "cultural economics", the economic study of art and related media. Cultural economics is an established field in Europe and Japan but less so in the USA. Here is my dissertation which is about the political economy of art and especially as related to the United States.
Further to cultural economics I put together a one semester course on cultural economics for "non-economists". This one class might take the place of a two semester (seperate macro and micro classes) introduction to economic principles for schools which are not required have these dual intro courses as part of academic certification. It's a good foundation for artists, designers, media professionals and others in related fields. It can also be used as a continuing education course for those interested in the intersection between the arts and economics.
This is my teaching philosophy statement and this my research statement in political economy.
For the last four years I have been producing a Brooklyn Free Speech cable television show called Hardfire TV, taking over for a friend who created more than 100 shows. I had appeared in several of his productions as a guest and host so that's how we met and decided to create another generation of Hardfire.
Here is a recent show, an interview with Aaron Commey who ran for NYC mayor as a Libertarian in the 2017 city-wide elections. Hardfire TV is now on a monthly schedule, showing the third Tuesday of every month at 10pm, Channels 56 / 69/ 84 / 44 on Optimum and FiOS, you can also watch it streaming through BRICartsmedia.org. All of my Hardfire TV shows are available on a youtube.com channel as well.
I have been collaborating with a fellow professor who helped put together the Reggae Sunsplash Music Festival, which occured annually in Jamaica and in over 15 countries, during the period 1978 to 1994 (Bob Marley appeared at the Fesitval in 1979). We have over 300 analog tapes of these concerts in high-quality Beta and U-matic format. (Here is a bootleg of the Festival with Toots and the Maytals, our project will ensure the highest quality relase of these performances.)
We are working with St. John's University's College of Professional Studies and Department of Library and Information Science to catalogue and digitize these concerts, with the goal of streaming these performances through our Reggae Sunsplash Preservation Society website for fellow scholars and music fans and the general public. Here is a one-page summary of the project we wrote for the university, who has given us working space. And this is "About our project" which we will be using for a general audience to facilitate crowdsourcing.
This is our first day in the studio working on our documenatary film about the historical / archival project (March 2018). Here is a short video in rough draft about the project.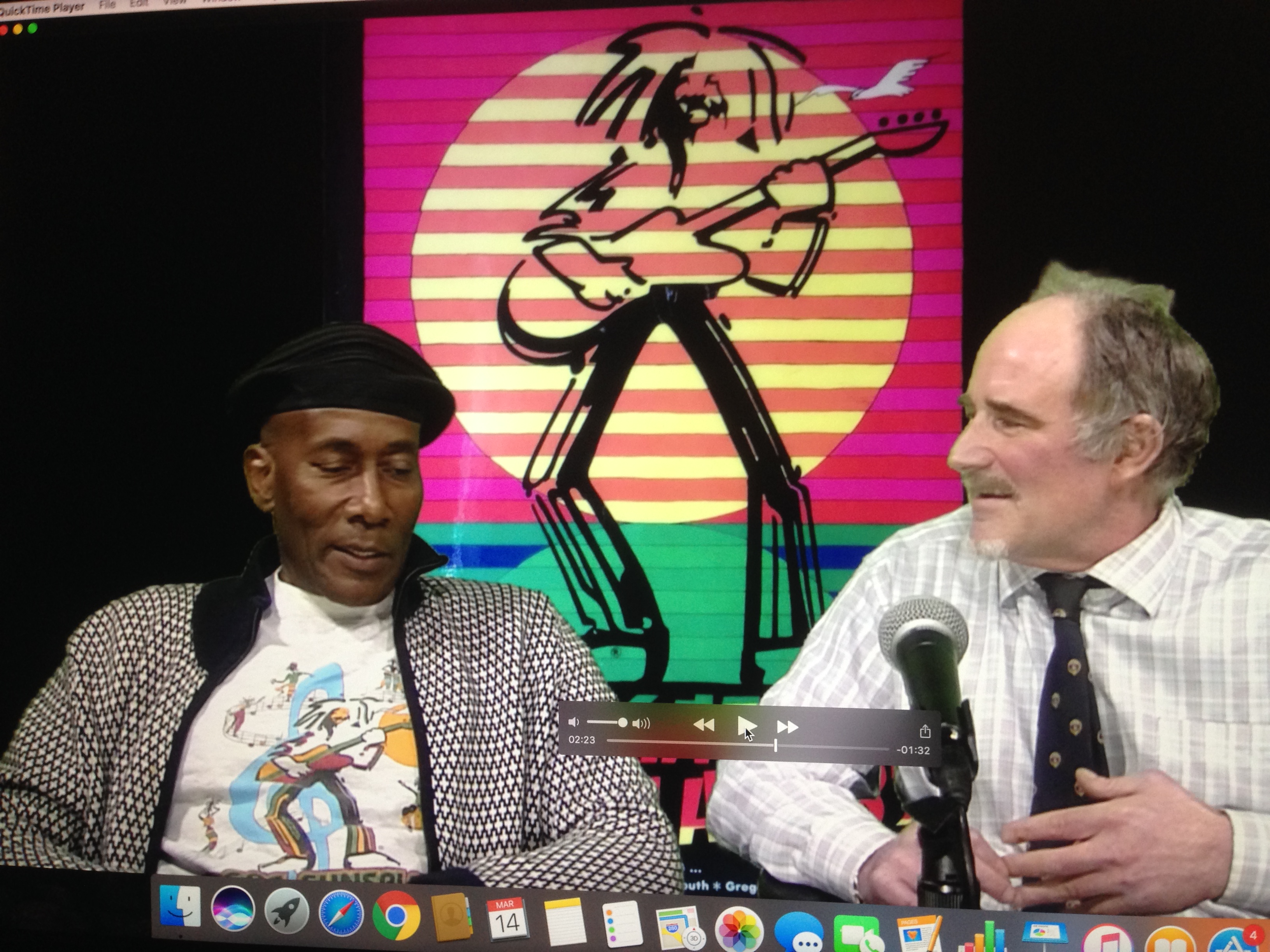 This is me enjoying a day trip to a sunny Mexican border town in early 2018. (photo: Chelsea)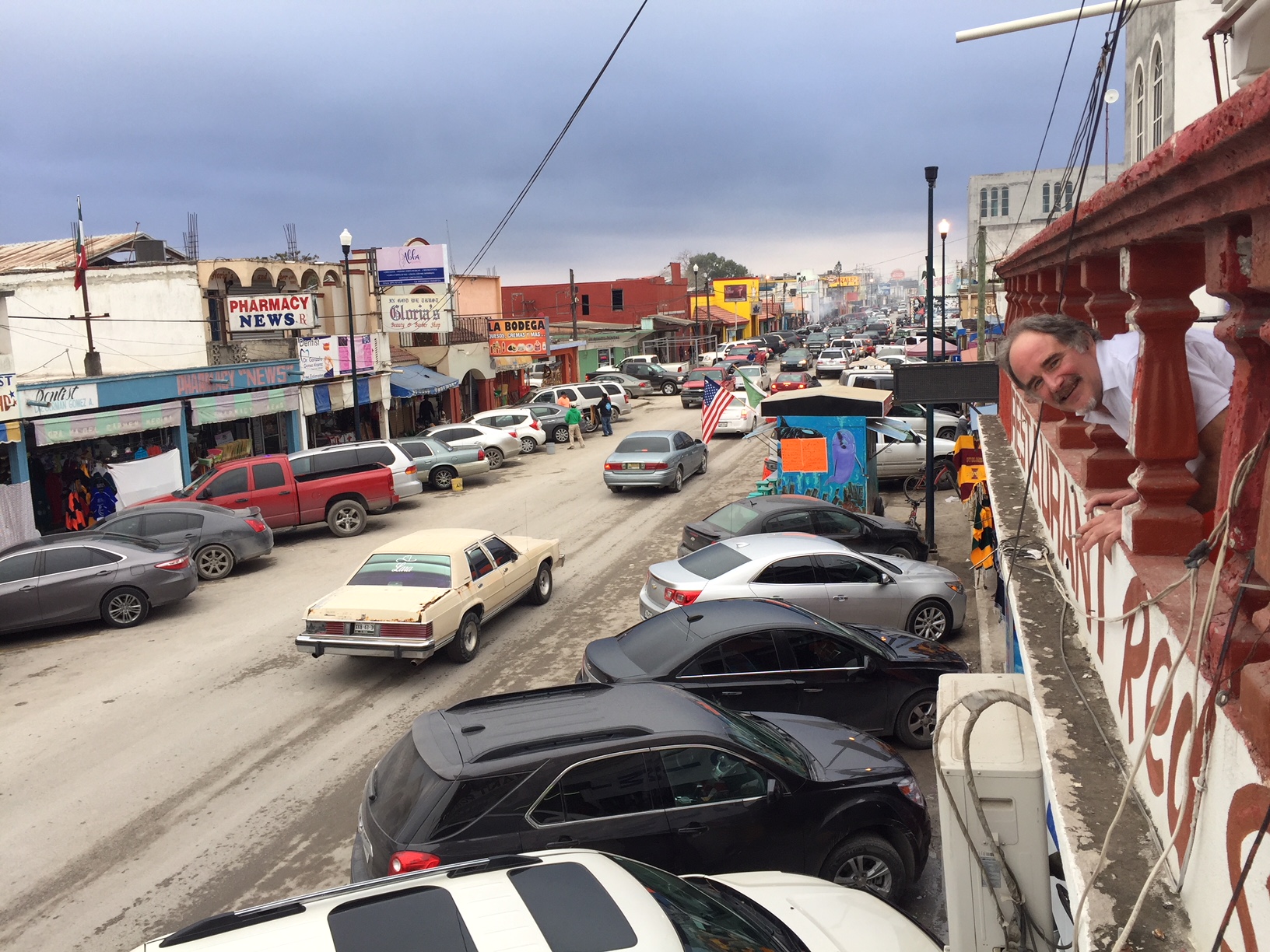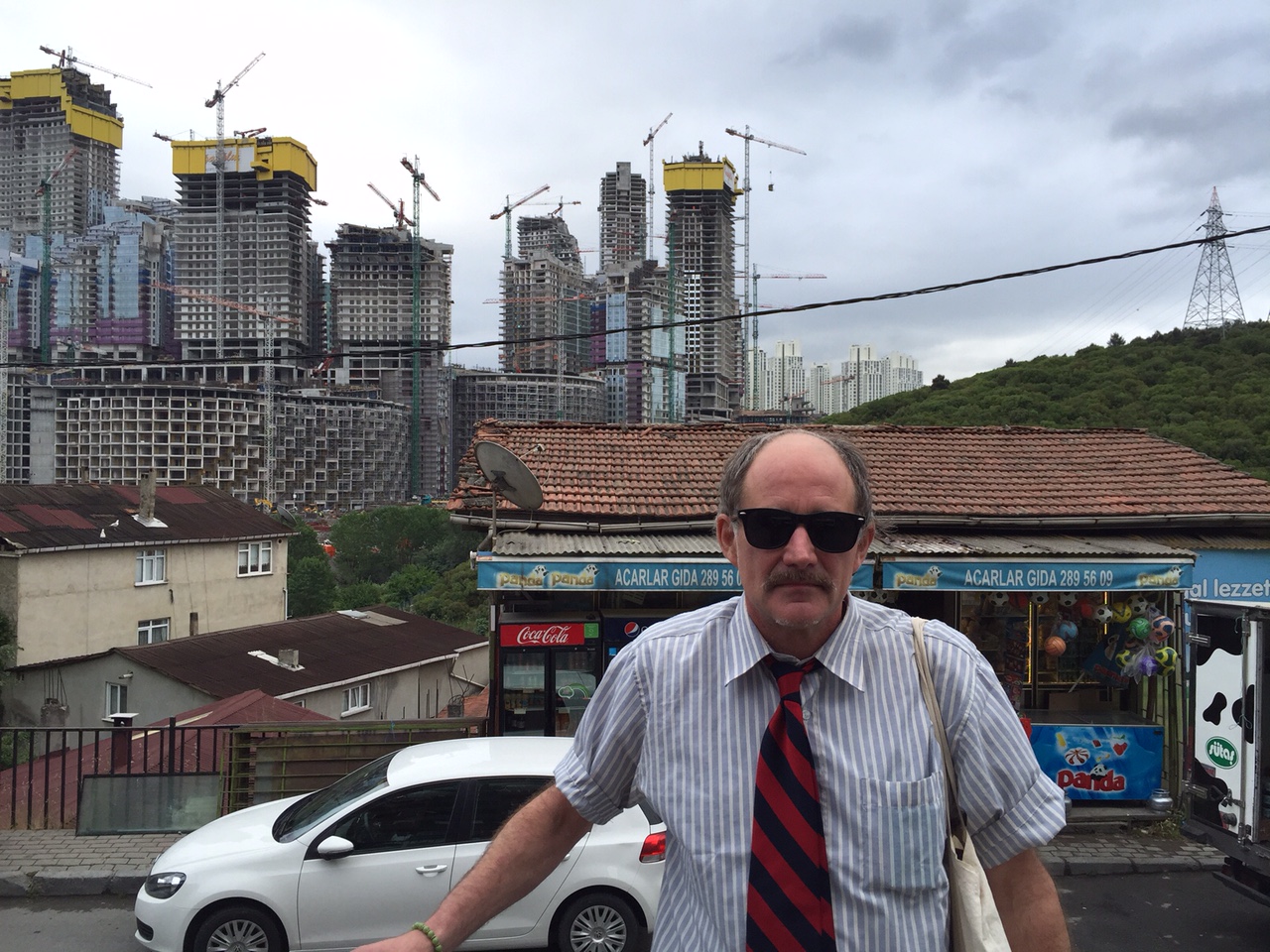 Photo: Chelsea
Over the summer 2015 I attended a symposium in Istanbul, Turkey (see "projects" link). Here is a picture near the conference site. You can see the crazy level of building due to the low (near zero, now in the EU, negative) interest rate policies of the US Fed, the EU Central Bank and the Japanese central bank over the last almost 10 years since the 2008 financial crisis, making cheap money available and causing unsound over-investment in stock variables like real estate. Just like the over-investment in housing due to low interest rates prior to the financial crisis of 2008. Here we go again. There is actually a pop culture explanation of this phenomenon called "the skyscraper index."
I have an interest in many areas of economics but mostly political economy and the history and philosophy of economics. I consider myself (if we must have labels) a political economist and an economic historian. I joined the Association for Cultural Economics International as found some good economists doing interesting work. I have attended meetings in Kyoto, Copenhagan, Boston, Montreal and Vallavolid, Spain. Arjo Klamer who was on my dissertation committee has just completed his term as the president of the ACEI. The next ACEI bienniele is in Australia in June 2018, I plan on attending and presenting some of my work.
The larger area of interest here is the cultural transformation in the USA from an individualist society to one of a collectivist or welfare state society and how this manifested historically in politics, economics and institutions, through today and a massive nation-state government with the largest debt balance ever created in the history of mankind. On a smaller scale I am simply interested in art and museums and the representation of public spaces and how we see ourselves as a people, art, of course, having the ability to transcend political boundaries yet capture specific times and places, both economically and socially.
I am also a member of the Society for the Development of Austrian Economics. I think this school of thought does the best at explaining how the economy actually works in our political and social settings. Although highly respected by some (F.A. Hayek shared the Nobel Prize for his theory of the business-cycle) "Austrians" are mostly outside of the mainstream of the economics power structure, probably because Austrians believe that the axiomatic use of mathematics and quantitative aggregates don't really provide too much insight into human relationships, and most, if not all, mainstream economics is highly mathematical. Most mainstream economics too views people as part of a 'system which can be improved-upon by the use of expertise, as opposed to decentralized human exchange with others, something which I don't find too appealing. I think society, and of course people, can't be limited to this categorical type thought.
My friend Guin Nell edited this book, published in 2013, and I have a chapter in it. I found that if we defund federal corporate and social welfare (which goes to some people), we could give $1,000 a month to every person in the United States age 21 and over, above the poverty rate. This information is from 2010, I have recently updated the research for 2015 data and found that we can replace the welfare state and give everyone ages 18 and over a Basic Income almost at the poverty level. You can see this latest research in the "projects" page of this website, and we also did a Hardfire show on the latest research in 2017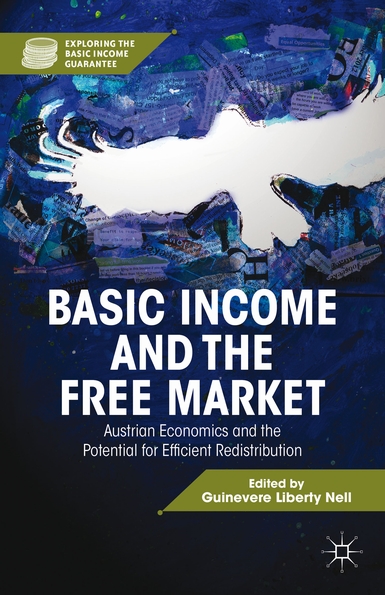 Social relations might help define who we are, but that does not mean we should be limited by the concept of society as 'system'. Here is a presentation I did in June 2010 at the Summer Institute for the Preservation of the History of Economic Thought, hosted by the University of Richmond (Virginia, USA), comparing Karl Marx's theory of the class struggle and historical progression with the French Enlightment thinkers (or French Radicals given the context) who preceeded Marx in a unified social theory of an economics leading to human freedom. The French liberals thought value was increased through human exchange, whereas Marx, following the physics of the day, thought that value was merely conserved. My point here of course is that we are free to gain from our interactions with others.
Before moving to New York to live and go to school I was a diplomat in Senegal (so speak a little French) and Kazakhstan (and some Russian) with the United States Agency for International Development (USAID) for several years. I learned alot about people and cultures living overseas. For career advancement and more sense of control over my future I left the Foreign Service to become financial controller for USAID's $20 some billion in loan programs, a congressionally-mandated position based in Washington, DC. This was very good experience to have albiet a bit frustrating to work in DC for prolonged periods of time, a place not known for its creativity.
After helping to build-up USAID's capacity to manage its credit portfolio, including passing an audit, I then became the chief of financial oversight and coordination at the Department of State during the State Department's financial management improvement efforts under Colin Powell. It was a fine day when General Powell swore me in as a State Department employee, though to be honest I am not a big fan of war and interventionism overseas, being a "classical liberal" in this regard.
Around the time I started the MBA program at the University of New Mexico I had a 'vision' that public service might be a good way to earn a living. I started working with the US government as an accounts payable clerk and near the end of my first 6 months in Washington I ran into someone in the elevator (par hazard - by accident - as the French say) and showed her some things I was writing. One of these papers was on the unsustainability of the Euro-zone and the proposed common currency because it would remove fiscal and monetary accountability from member states, something which has borne true if you are following the Greece situation, and then Ireland, and then Spain...but exemplary of larger problems with all welfare-states.

My friend showed these writings to her boss, and then a bit later I was promoted to a policy analyst, where I evaluated legislative proposals and wrote policies for implementing foreign aid programs. I worked in Washington in various jobs initially for about three years, which included my first trips to Africa. Mali is beautiful, one never forgets the red earth, big sun, natural foods and the gentleness of the people in Bamako. (I am a little disheartended today about the coup d'etat in Mali. If the Tuaregs seek independence why should they not be granted independence? This might prevent the religous and partisan fighting occuring today.)
I then appplied for and was accepted into the Foreign Service with USAID, where my first posting was to Dakar, geograhpically the most western part of the African continent, and a thriving, interesting metropolis in its own right. I was lucky to have had Dakar as my first posting and have been fortunate enough to go back there a couple of times after having lived there. You can learn alot by seeing places in discrete separable moments of time.
I worked for USAID on projects in many countries, mostly in the areas of economic and public sector reform. For example I helped to establish the housing mortgage market in Kazakhstan after 70 years of the communist regime (the only thing people got after the Soviet dictatorship collapsed was the homes that they lived in) and helped to encourage small business lending in Guatemala after their 35 year civil war, both through the offering of partial, risk-sharing, loan guarantees, which it should be noted are different than the 100% US Government mortgage guarantees at the heart of the Great Recession.
Some of this "development" experience (especially working with people from all over the world) I found quite rewarding. Although in the end I found that statist "development" as opposed to voluntary cooperation through exchange is not a good use of society's resources nor for the conciousness of the recipients of aid generation after generation.
Many things bring joy in addition to family and friends, work and ideas. I sometimes think the music of John Coltrane is the closest we will get to the voice of a God, next to our own personal love relationships and family. Shostakovich is supremely profound and sublime as are the works of Beethoven and Mahler.
I also enjoy rock music, mostly people from the UK, Australia, NYC, Detroit and San Francisco from the 1960s and 1970s. Nick Cave and the Bad Seed's The Boatsman's Call I think is one of the most beautiful records ever conceived (along with John Cale's Paris 1919), however I don't know if most people would really call these records 'rock'. I like Shostakovich's 8th and 10th Symphonies the most, as well as Coltrane's A Love Supreme and Giant Steps. More on 'rock' I also appreciate Big Star and Shonen Knife. On the latter, Naoko has been at it 30 years and has a great band right now and her song-writing is inspirational and ground-breaking. I am proud of America's on-going contribututions to popular music, not least the Red Hot Chile Peppers, Courtney Love, Redd Kross and Green Day. They continue to produce great music and (mostly) only get better with time.
It is safe to say that the Clash are one of my favorite bands, they were my political awakening when I was a freshman in college, especially their first American record Give 'Em Enough Rope (a paraphrase of V.I. Lenin, who said we - the Bolshevicks - will sell the capitalists the very rope by which they will hang themselves - see above on 100% government mortgage guarantees). Here is one of the best concerts I have ever seen (I think alot of the iconography is from Paul Simonon, the bass player), live in Tokyo 1982.
Here is something I wrote about politics, culture and music, which was published in Liberty magazine.
I publish a small book called Economics for Everyone. The idea is to have something that clarifies important points about economics for, yes, everyone, but especially those who haven't had the opportunity or interest enough in economics to learn about it. Higher levels of economics can be very complicated mathematically and technically, but fundamental economic ideas which do effect everyone's day-to-day lives could be better disseminated.
That's why I wrote Economics for Everyone, for some people I know, respect and enjoy who haven't had the opportunity to study economics in a formal setting. I think it is a good primer on economic fundamentals and too covers the unresolved debates in economic policy, but then again of course I am biased because I wrote it.
I did a Second Edition to include the Supply and Demand of central bank interventions in the international currency market, the unintended redistribution of income and wealth towards the better-off due to certain government policies. The final section of the new book uses the Austrian school of economics to describe the Great Recession. Previously I had kept the Austrian School out of the book as tried to keep it as mainstream as possible, but given the resurgence of interest in the Austrian School due to Financial Crisis of 2008, I believed it relevent for the book's revision. The book is still "for everyone" as is less than 100 pages of simple graphs and exposition.
I am selling a eBook version for a Bitcoin, the peer-to-peer stateless money, trying to encourage in my own way competition in currencies. I started selling the book when one Bitcoin was worth $6, now Bitcoins are worth over $20,000. Update: because I have sold out of the hardcopy of the book I am now making it available free as a .pdf file, you can access this at the "ebooks" page of this website.

Further to this autobiographical sketch I relate to modern art and the history of it and the ideas of the people that created it, especially Russian art around the time of the Russian revolution and the Parisian school from the 1920s and 1930s. Man Ray is a favorite, his paintings and writings more than his photography (he is so under-rated as a painter and I do tend to go for the underdog).
One of my favorite painters is Amrita Shergil, I discovered her when in India. Here is something a friend sent me (thank you Chris G.) about art and the television show Bewitched which is very well done. I am also a big fan of Russian literature; Gogol, Turgenov, Tolstoy, Dostoyevsky. Russian culture breeds interesting art and literature, at least to the "western" eye.
I also appreciate the painter Henri Matisse for his bold colors and method of abstraction and repetition. Here is a photo of me and a Matisse painting at MoMA. MoMA charges $25 to get it in, which is ridiculous, but in return I guess the fact that they allow you to take photos and therefore share their "copyrights" of the works, is a slight compensation (I received an artist membership at MoMA in the spring of 2016 so get in "free" now :-) ). Photo by Dorian, July 2013.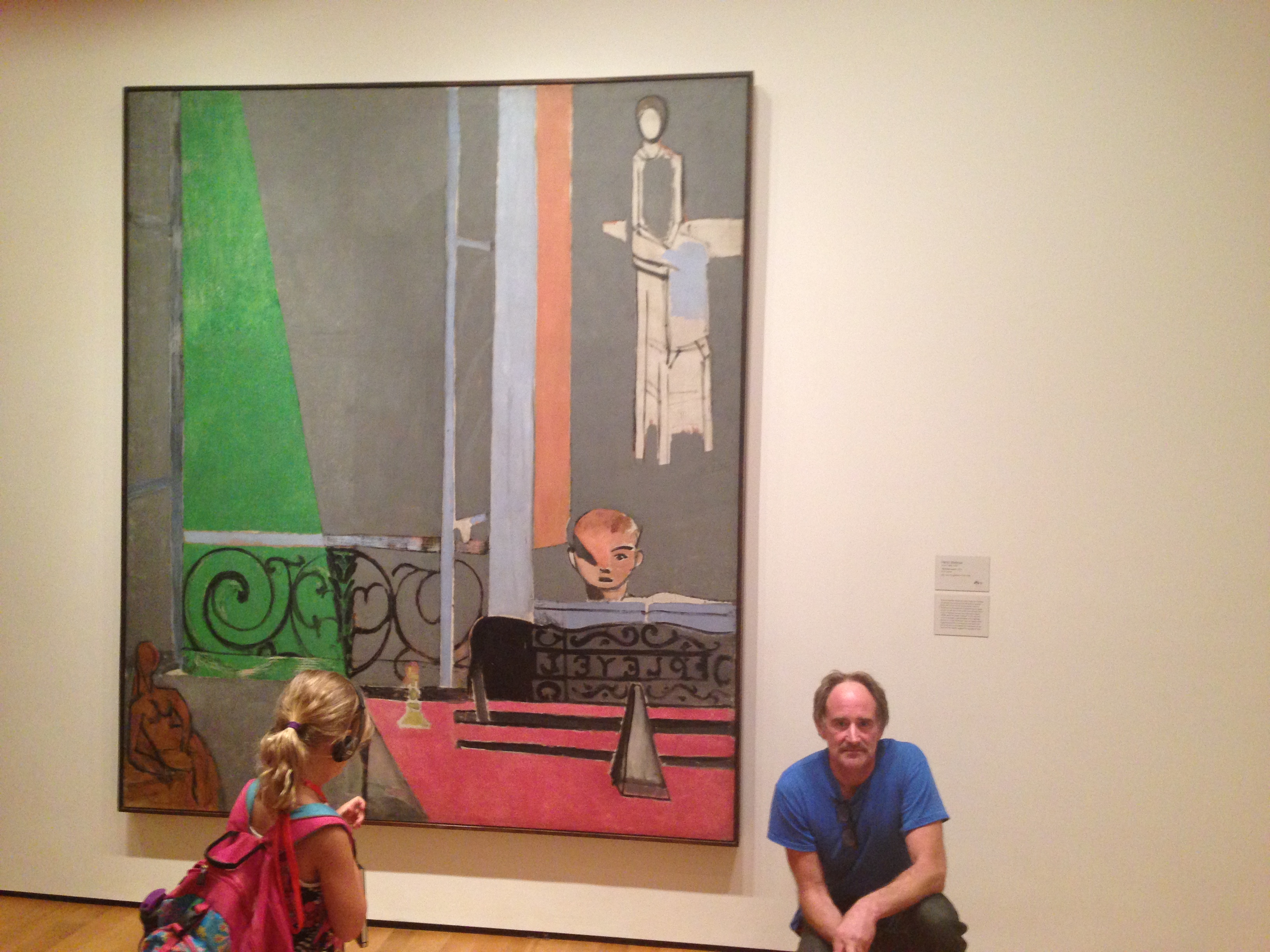 As the dissertation was nearing its end we started to busk in Williamsburg. Our busking group is called Lonesome Hobos, from the Bob Dylan song extolling generosity. In this video clip you can see some of my paintings. Lately I have been playing "country, folk, experimental" music in our south Brooklyn group named Big Noise, here is something I like alot that we have done. We have other things on our youtube channel as well.
Here are some of my paintings, Please excuse the subpar photographic quality of these works as done with old iphone.
Still Life, acrylic on cardboard, approx 2' x 2'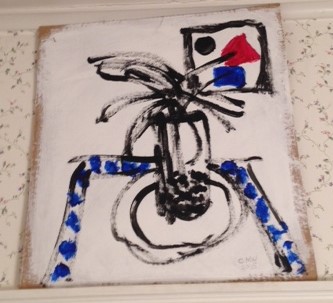 The Last Coal Miner in the U.K. (series), acryllic, sharpie, xerox paper on cardboard, treated with Mod Podge (approx. 5" x 8").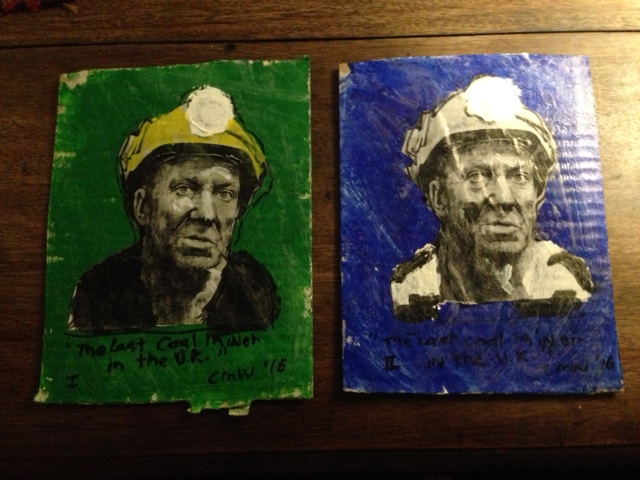 This is called Two Joan Crawfords (2015). Xerox paper, acrylics, Mod Podge on cardboard, approx 2' x 4'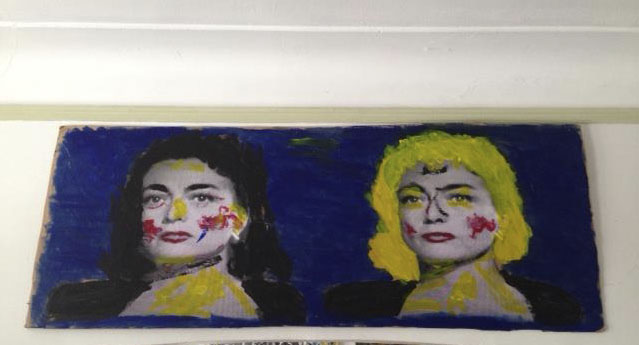 Below find a tryptich collage (all cut from one edition of the Wall Street Journal during the Great Recession in 2011), a take-off on Russian Constructivism. Newsprint, cardboard, acrylic, glue, varnish and canvas.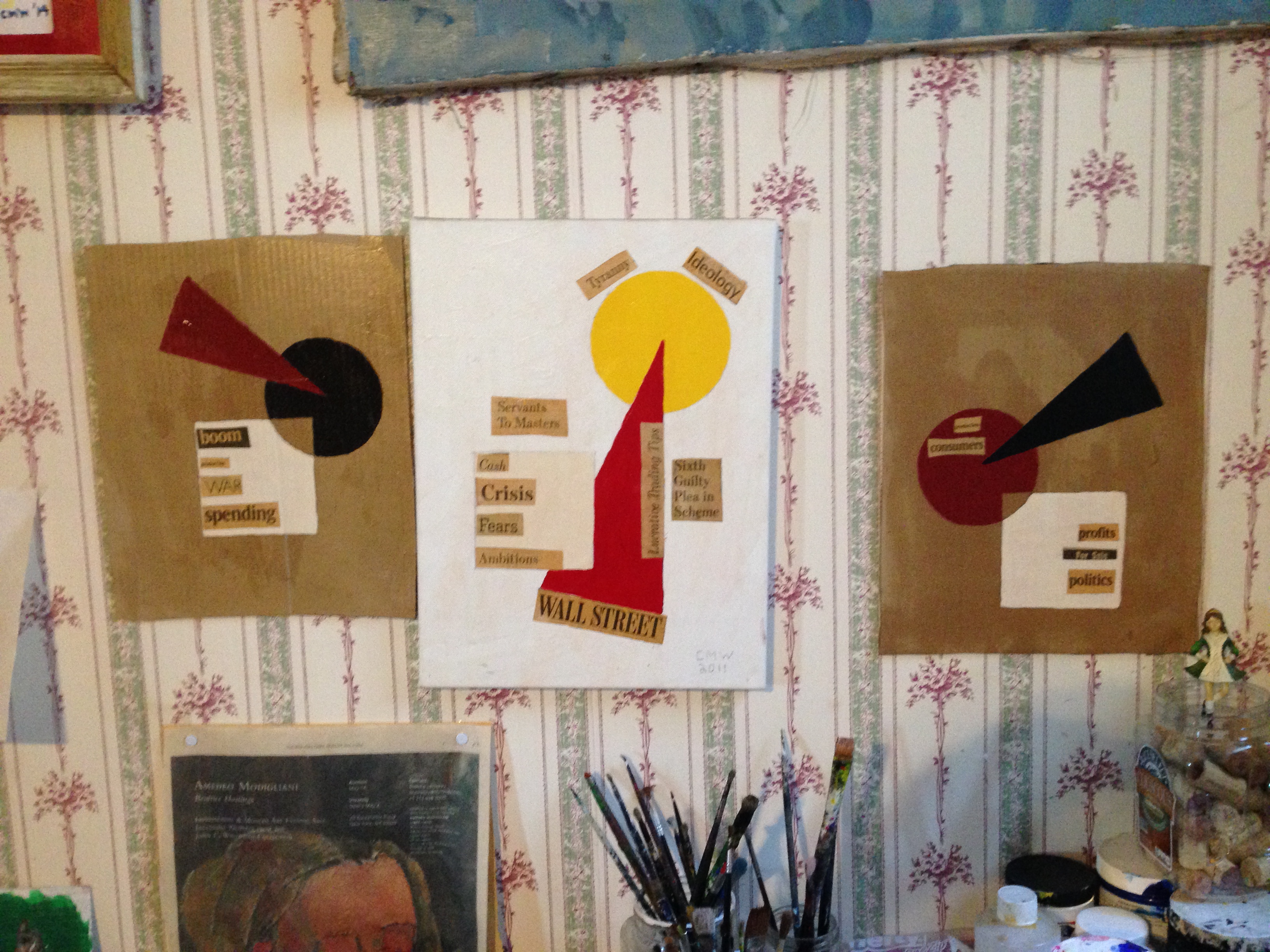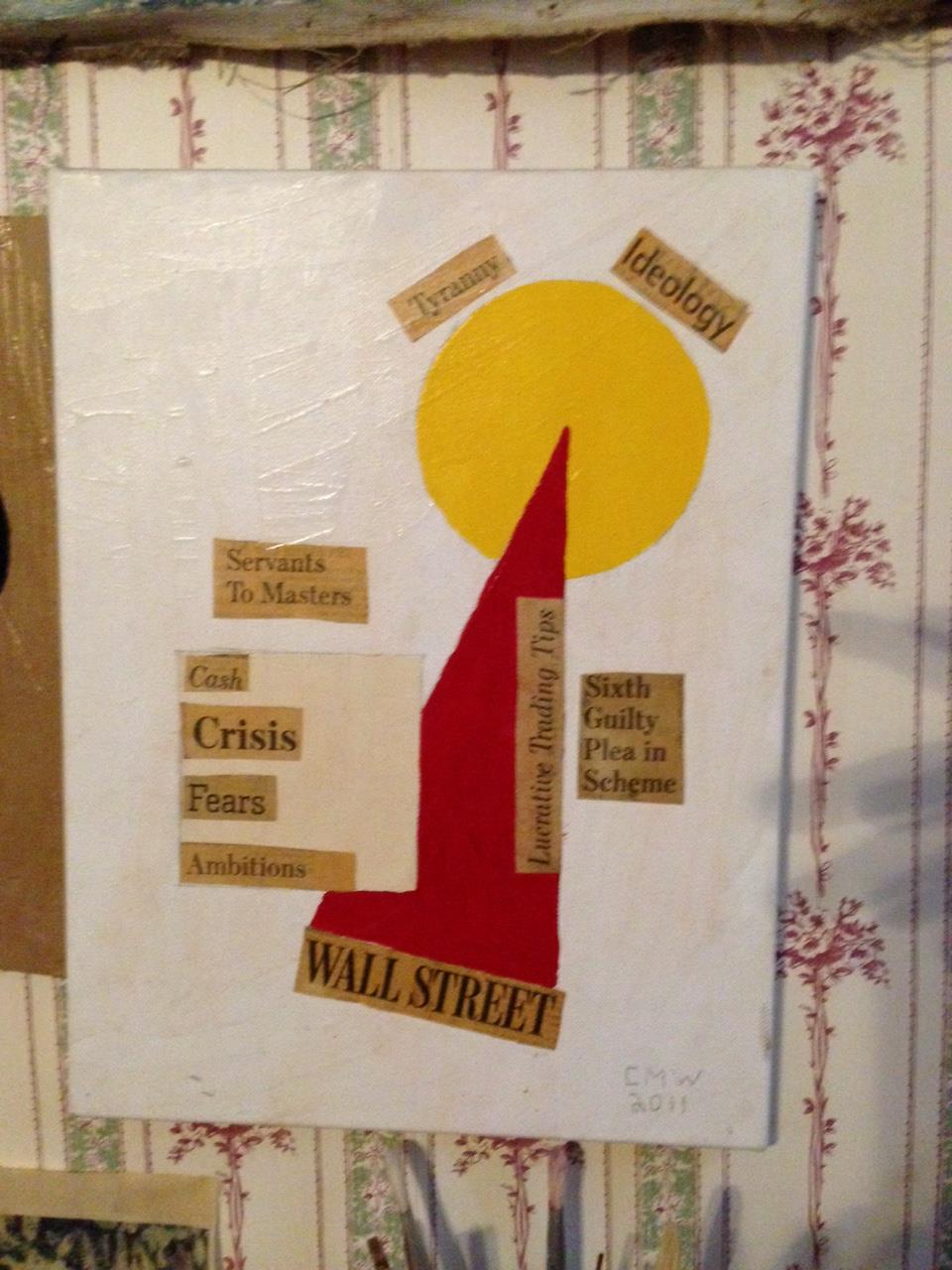 Dennis Hopper Busted, part of a series, when Hopper was arrested in my home state of NM. Xerox paper, acrylics and Mod Podge on cardboard (2014)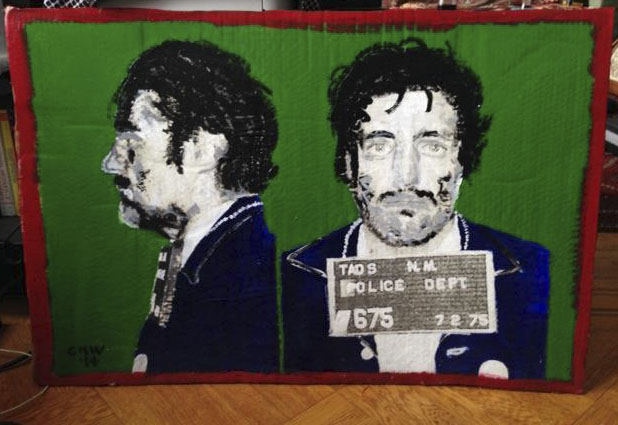 This is an oil on canvas painting called Sunny Spain (2014) which I gave as a wedding present to some friends (approx. 3' x 2').
This one is done with watercolor pencils on paper. It's an interior from our apartment in Texas. December 2014.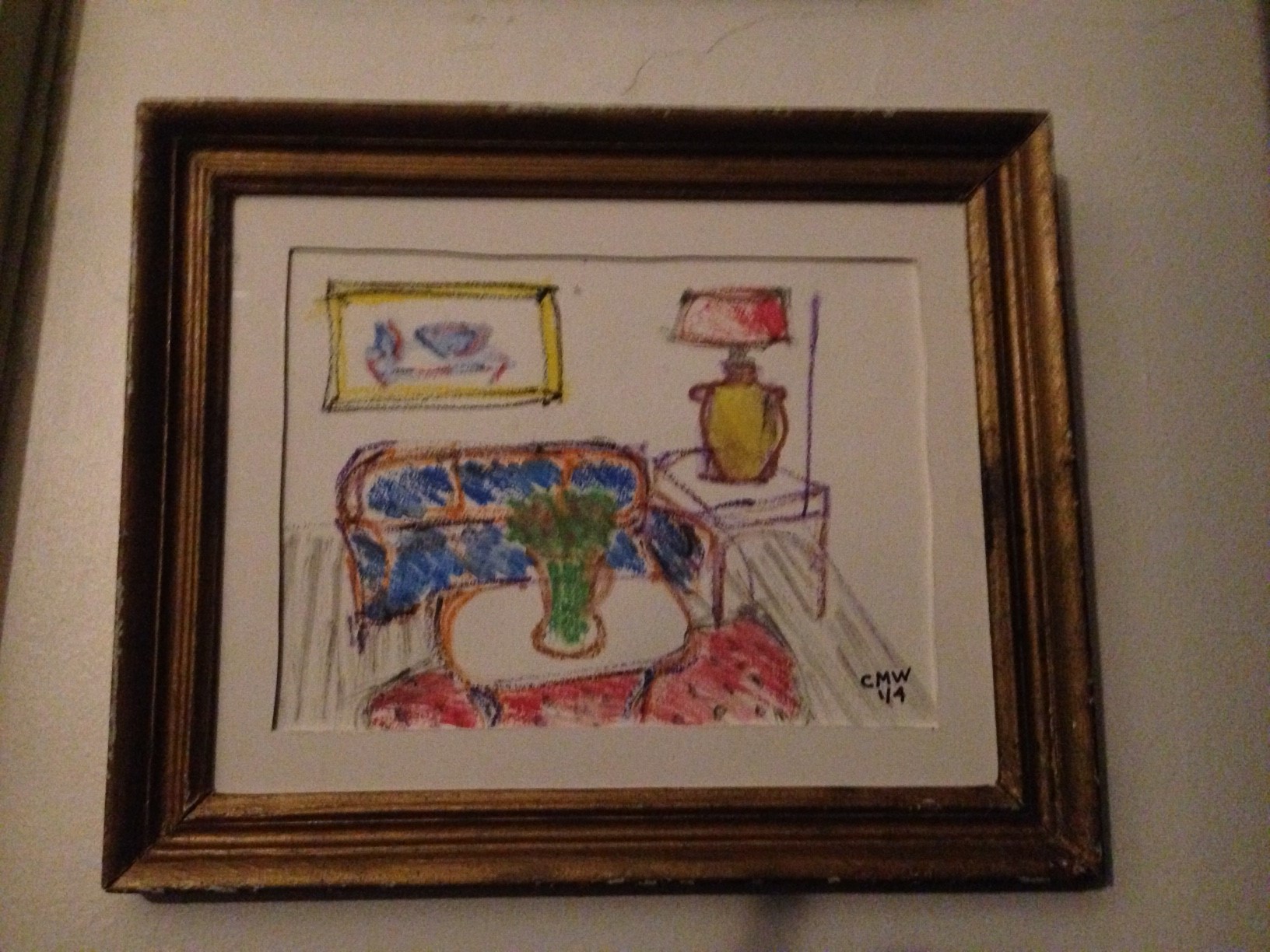 Cornered only one way out (2014) Oil on wood, approx. 20" x 20".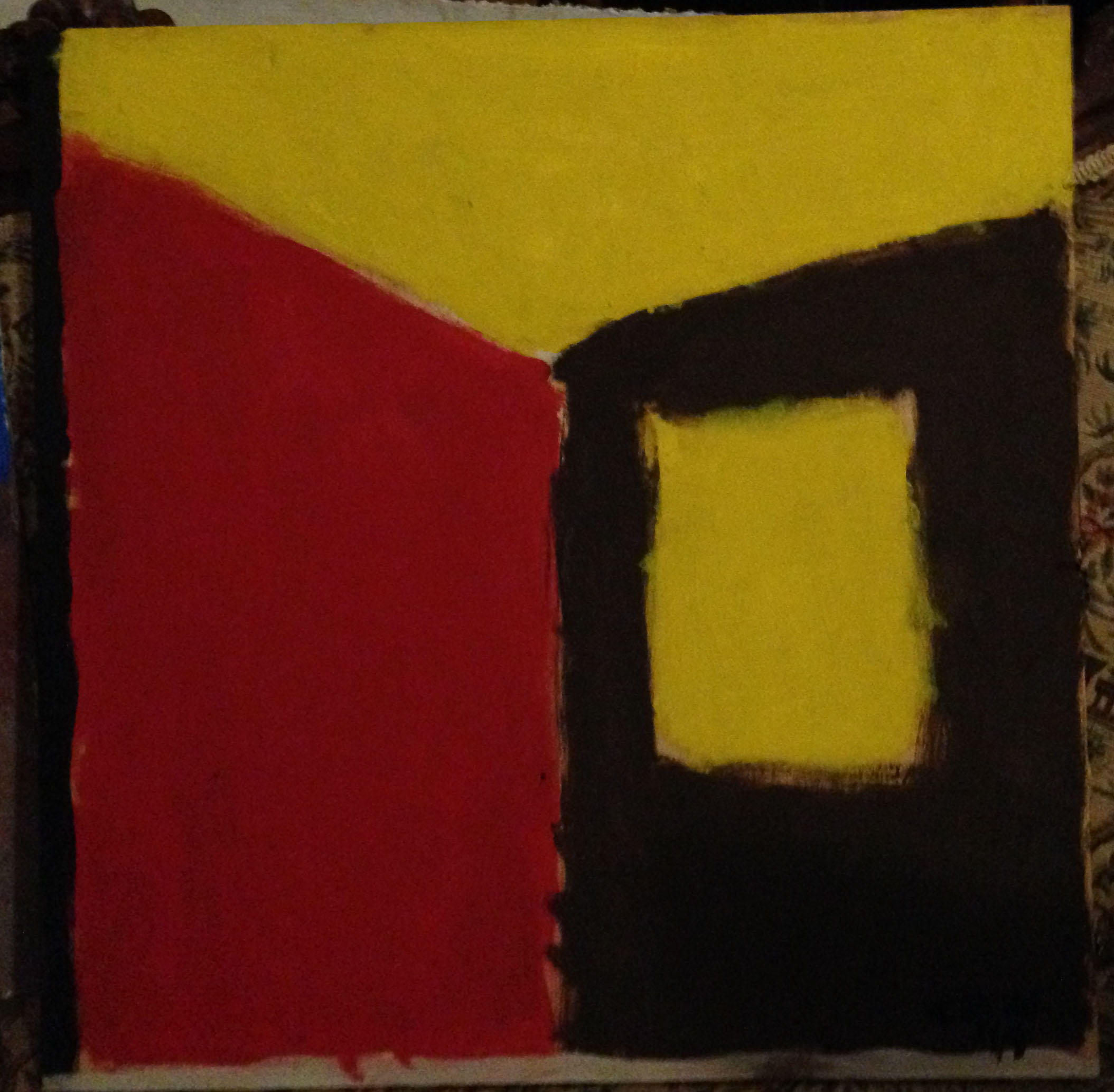 Here are four oil paintings (including the one above) which might be considered "modern art".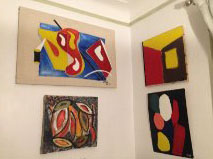 This is a still life featuring F.A. Hayek's book Fatal Conceit: Errors of Socialism. Acrylics on cardboard treated with Mod Podge. It is in a friend's office on campus (2013).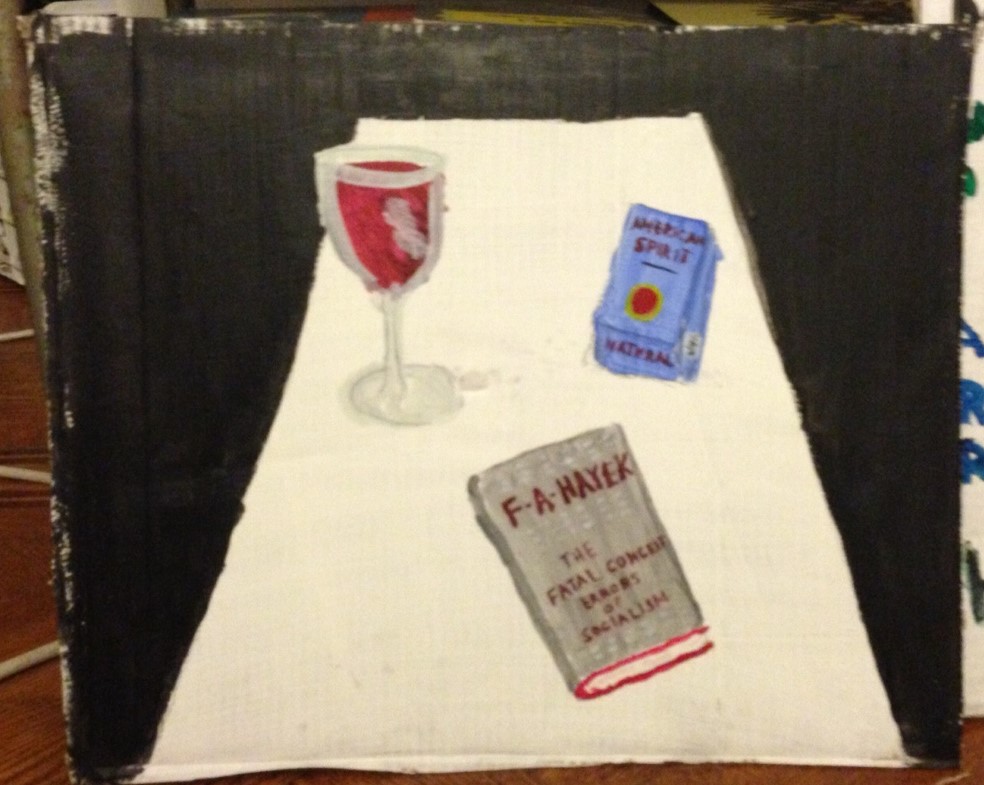 This one is along the train from New York to points south. Acrylic on cardboard.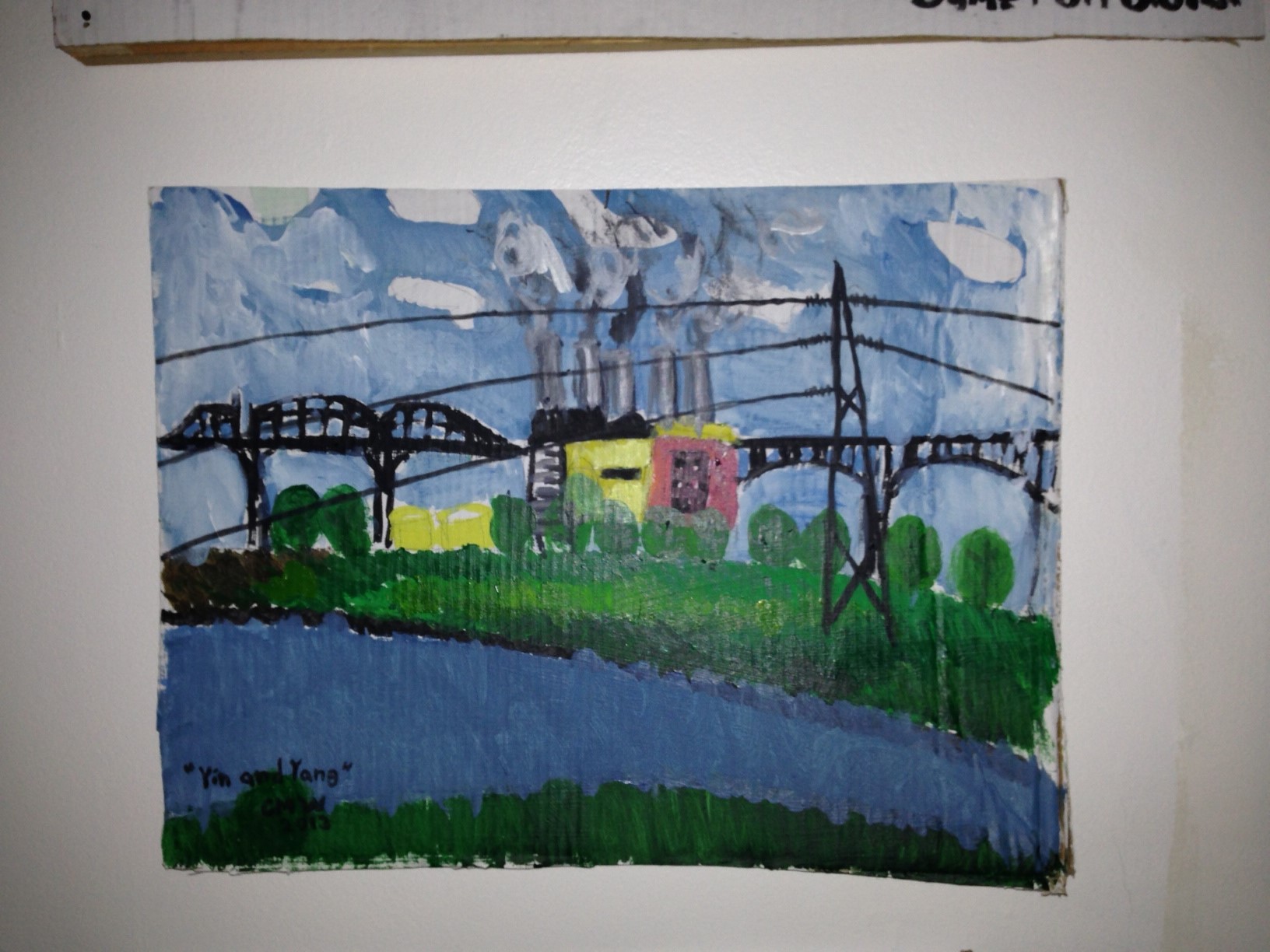 This is the Hudson Bay Company in Montreal, the oldest company in North America. Note how its been mostly repurposed. I gave it to a friend when we both in Montreal, he and it are now in the Netherlands. Water colors on paper.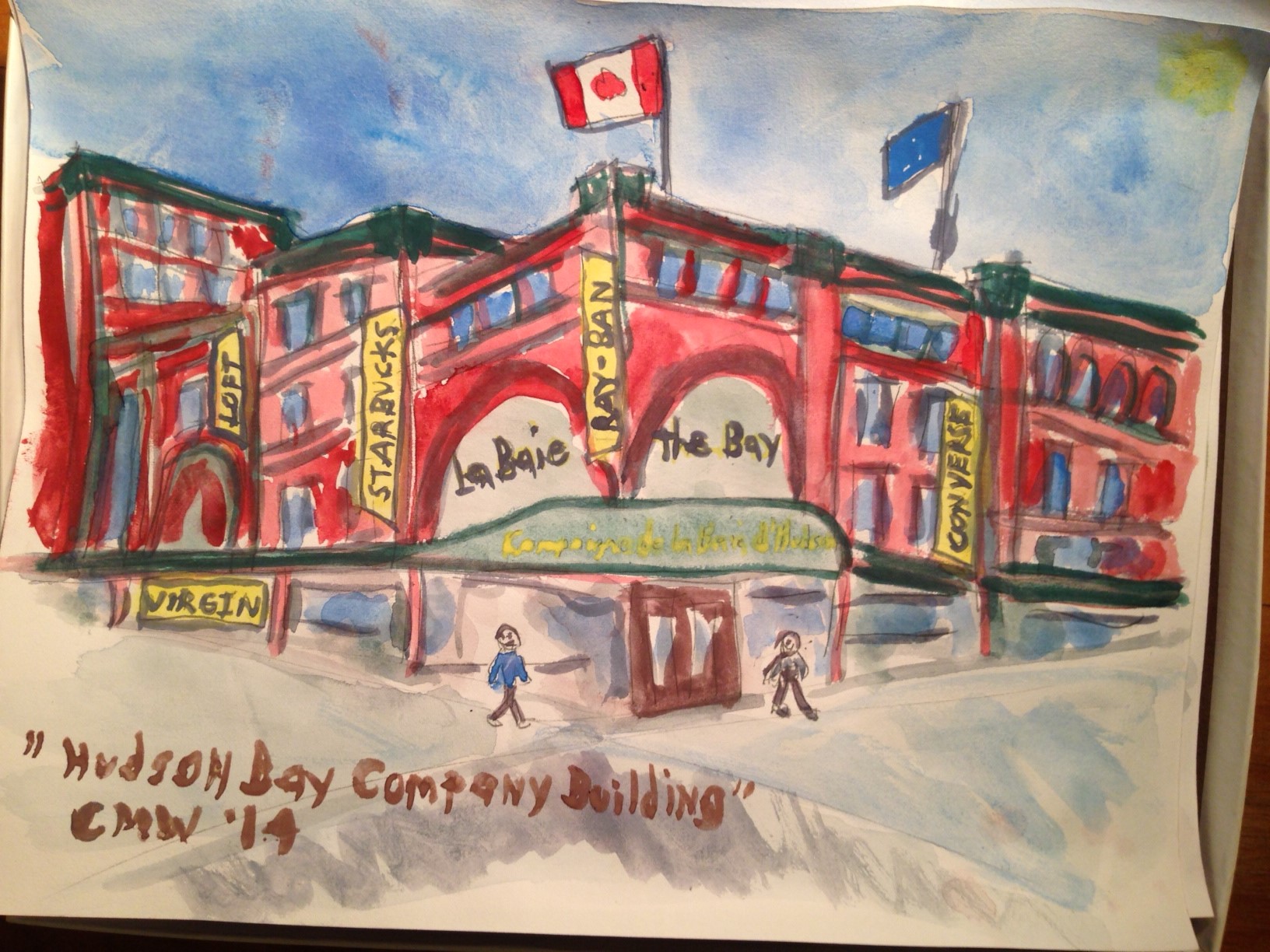 Refinery Blast Venezuela August 2012 42 Killed, 100 injured. (2012) Acrylic on cardboard approx. 14" x 18"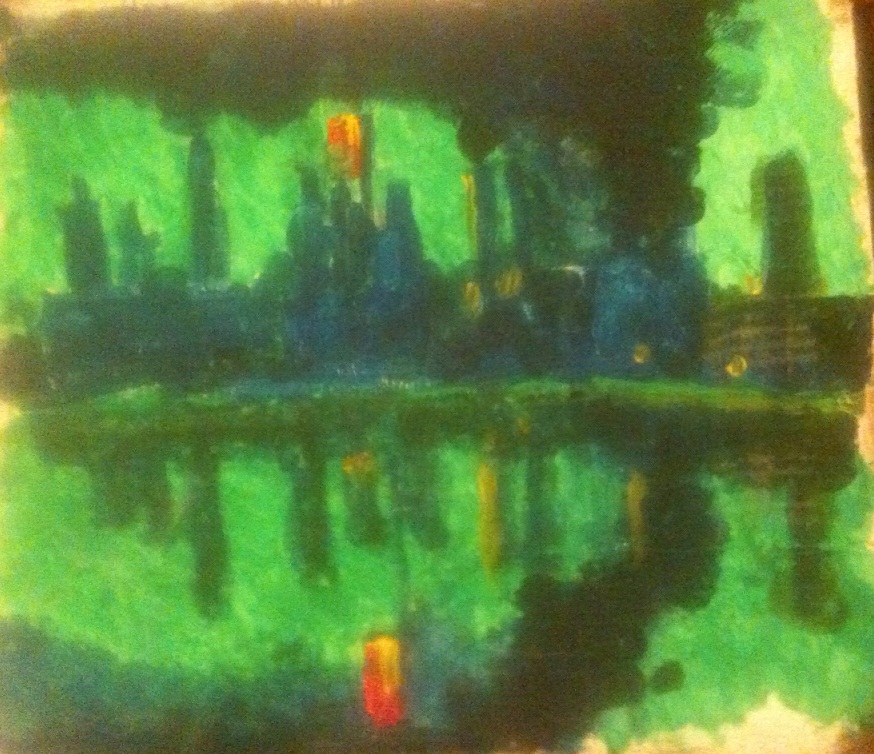 Power Plant Southern Maryland (for Jake, 2012, who works at the plant)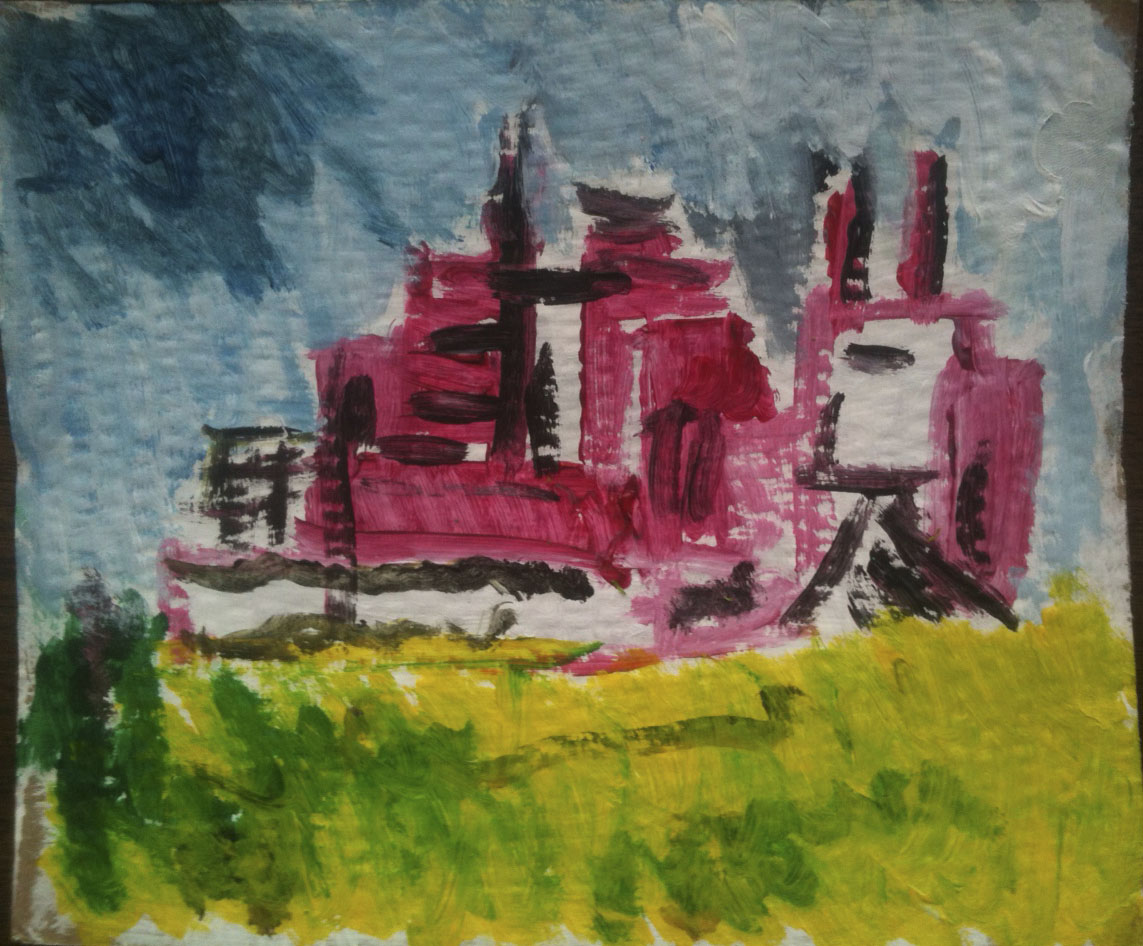 Pink Girl (now in possession of JJ in NYC, 2012)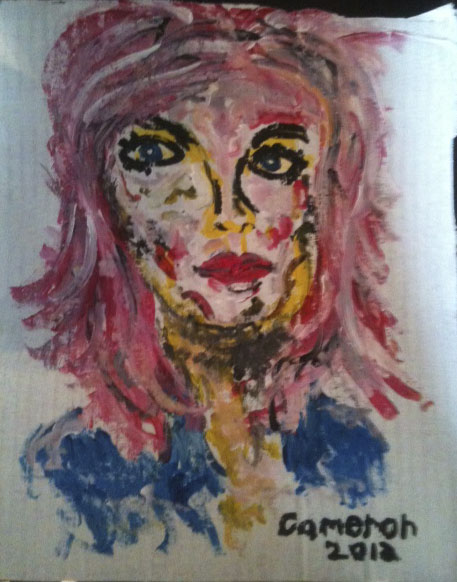 Billy Joe of Green Day. Acrylic on untreated cardboard, varnish finish about 1 1/2' by 2'.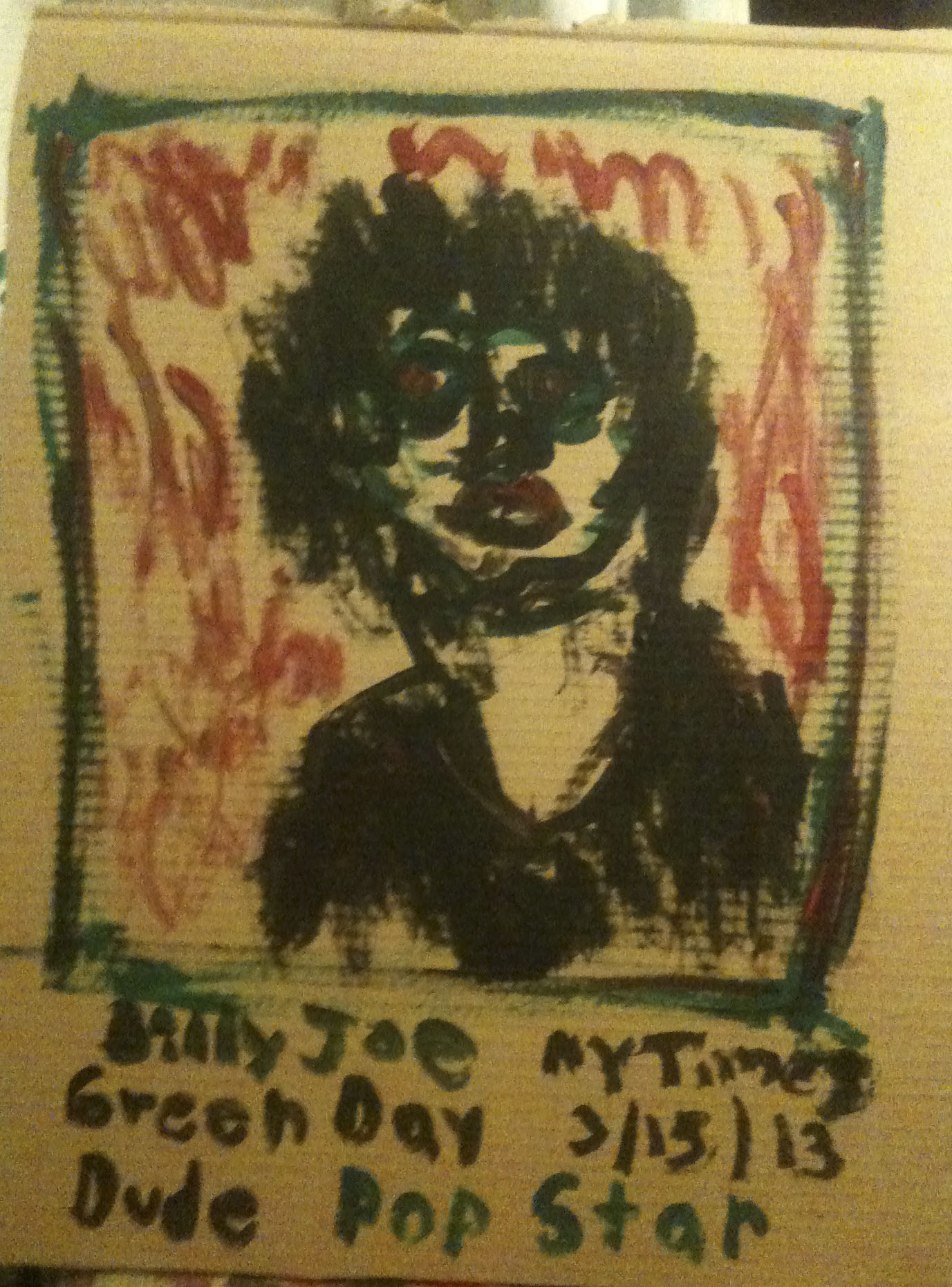 This is a portrait triptych I did of Cecilia Kuhn, the drummer and a singer for Frightwig from San Francisco. (Approx 12" x 12" x 1", Xerox paper, glue and acrylics on wood.)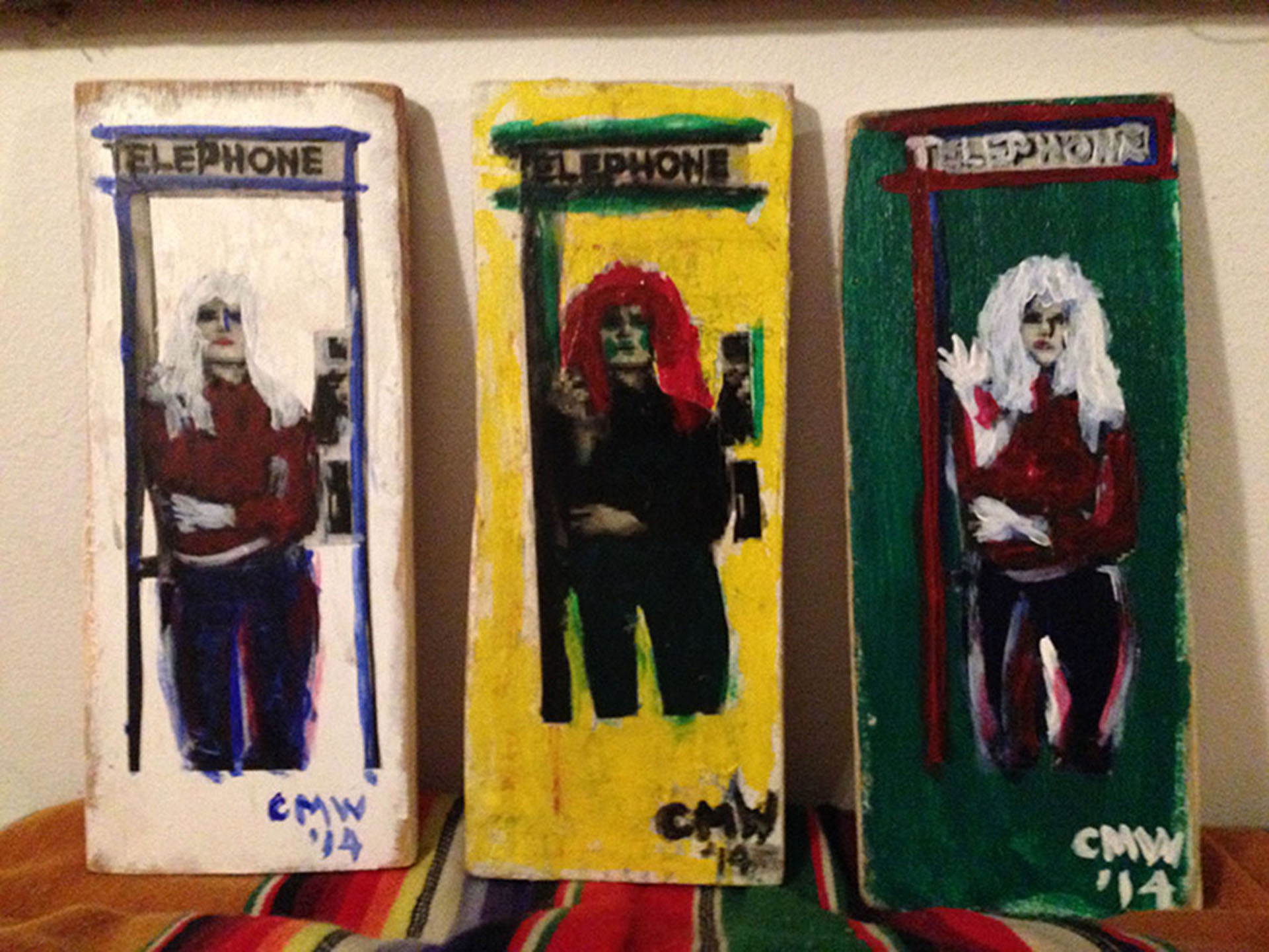 Soviet Woman, one of a series, one was a wedding present, another is at the New School economics department. Xerox paper, glue, acrylic and Mod Podge.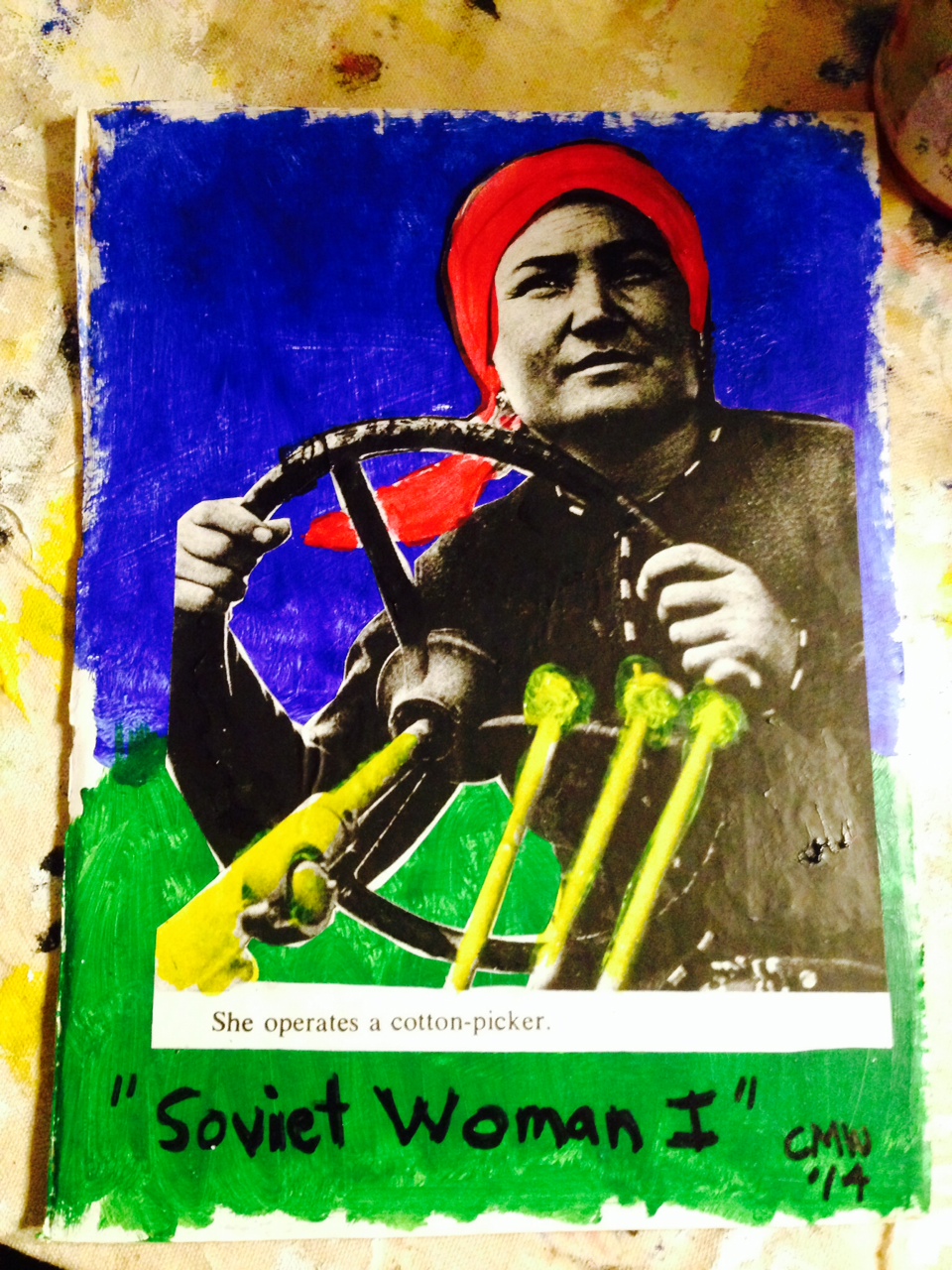 Still Life : Fruit from Sunset Park, Brooklyn (a few minutes before they became a healthfood shake, 2013). One of these is now in Bay Ridge and another in Washington DC. One is in my kithen.


Washington, DC, one of a series (a couple of these are with friends, another I donated to our cooperative apartment yard sale)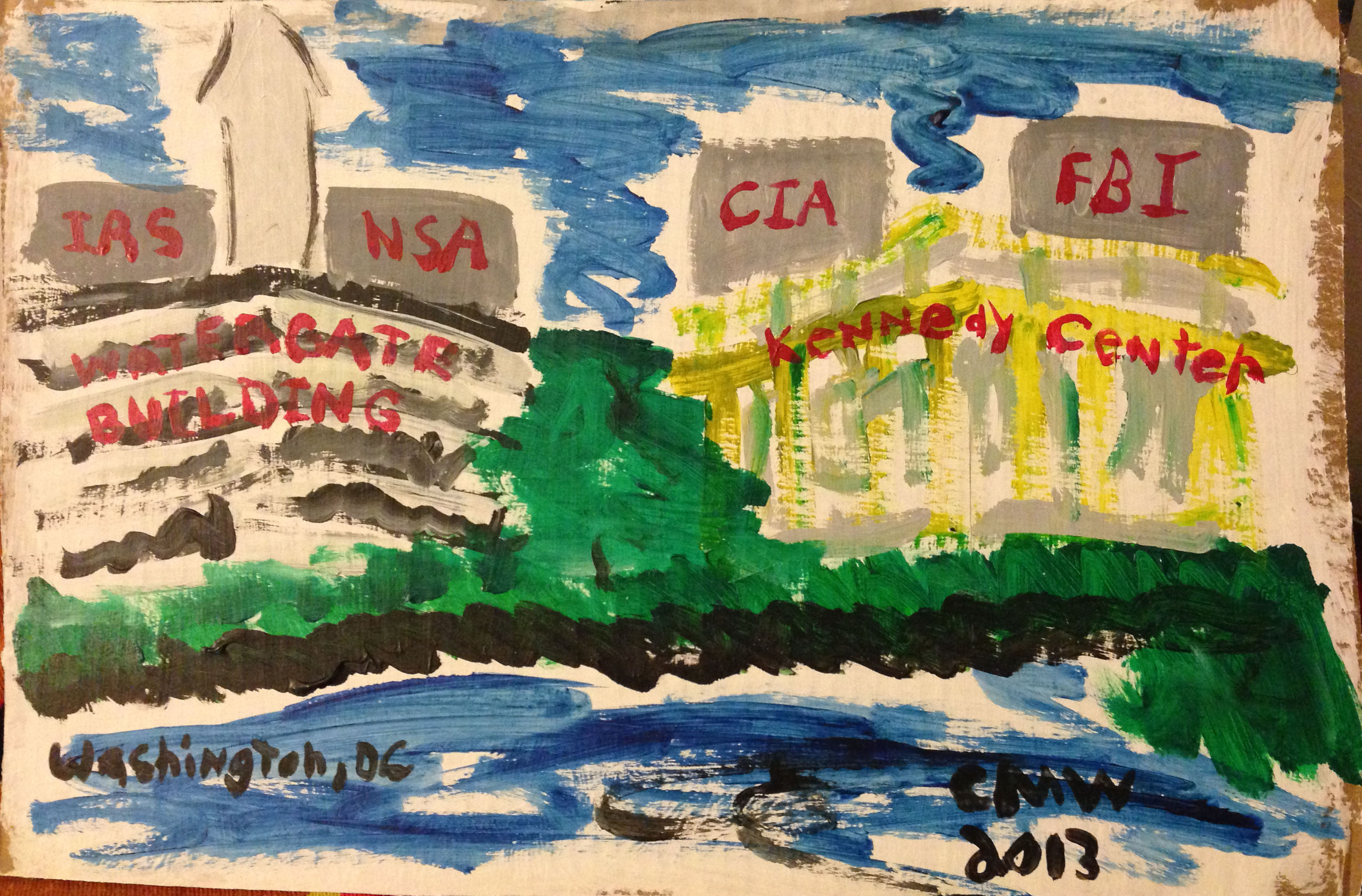 Here is me with some of my art, May 2017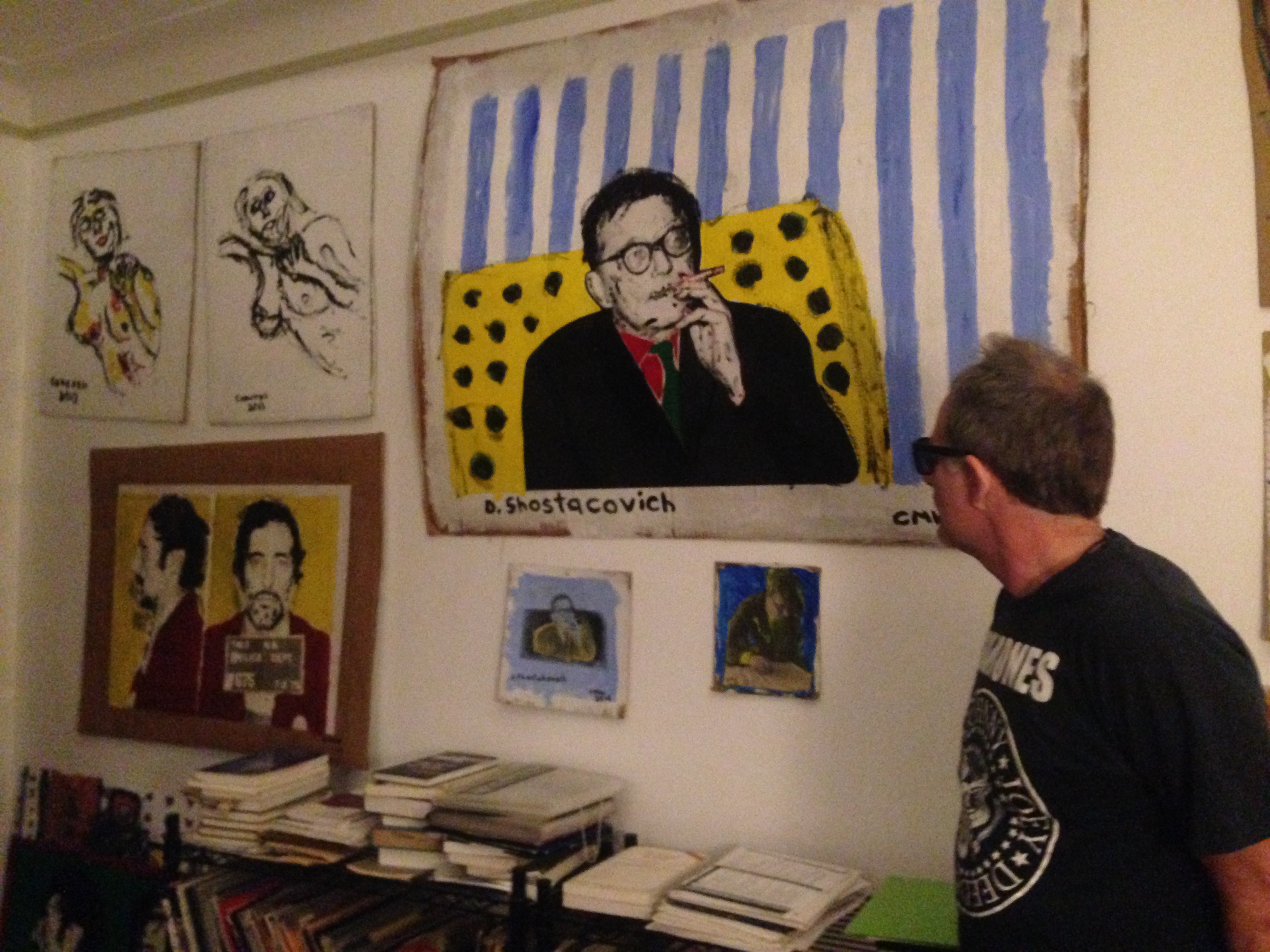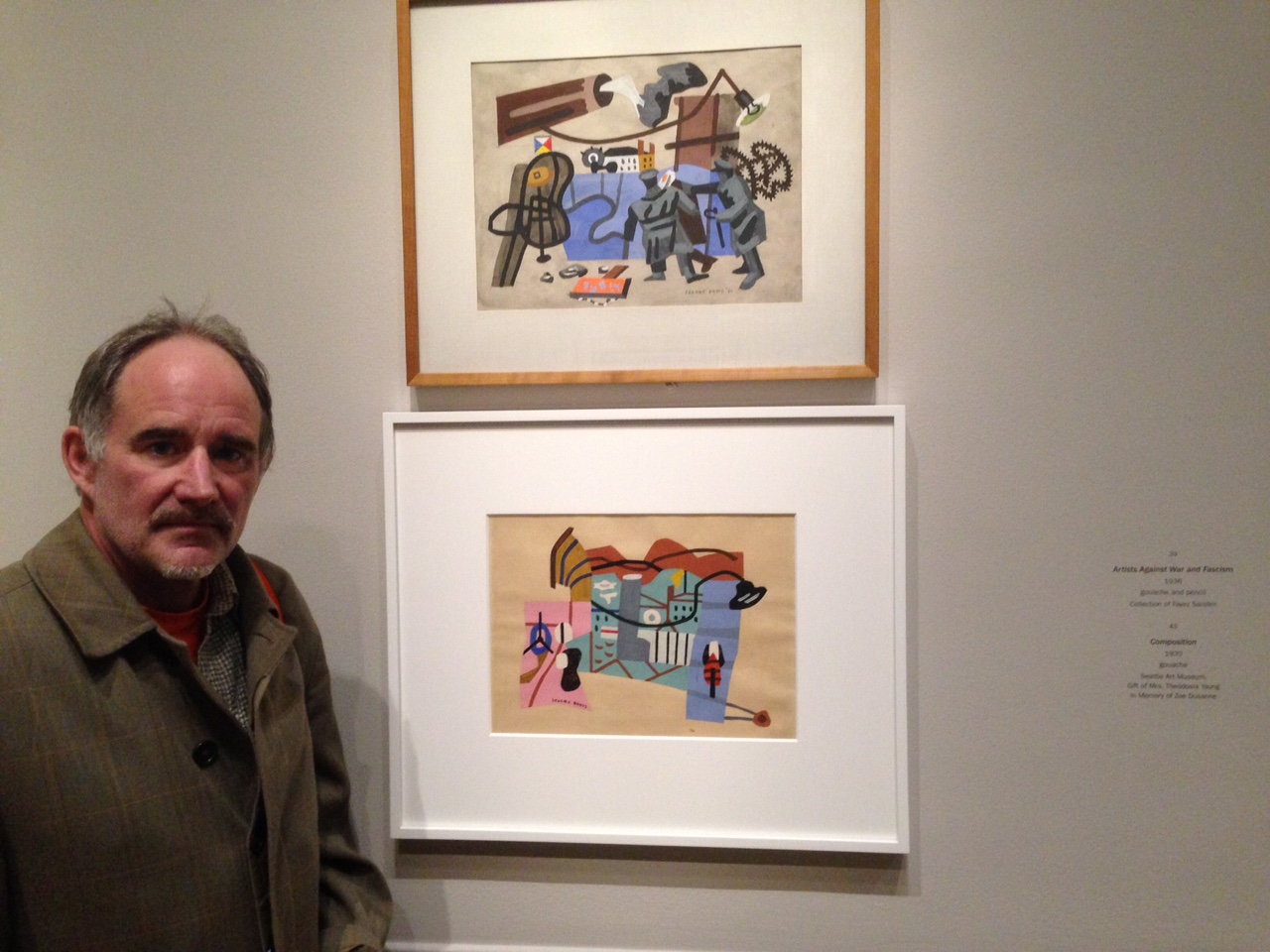 This is me at the Stuart Davis exhibit at the National Gallery, November 2016, the "Artists Against War and Fascism" section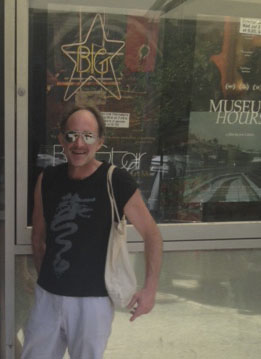 In front of IFC theatre, two great summer movies !, Summer 2013, photo by I.MAO.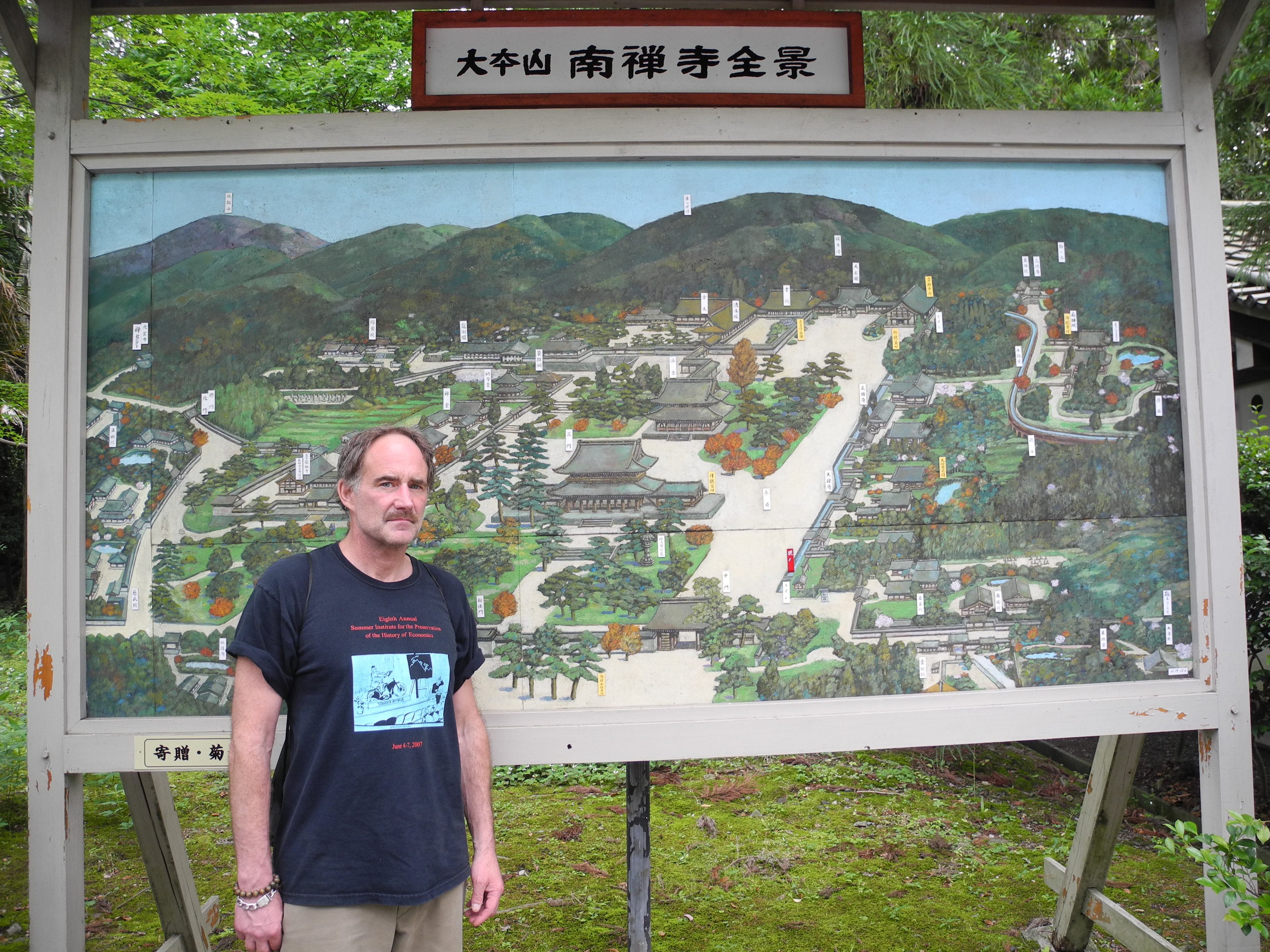 Kyoto, Pure Earth Bhuddism, June 2012, photo by c y-h.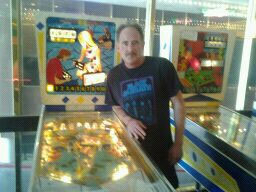 May 2012 in Las Vegas at Pinball Hall of Fame, Riviera Hotel, photo by vv.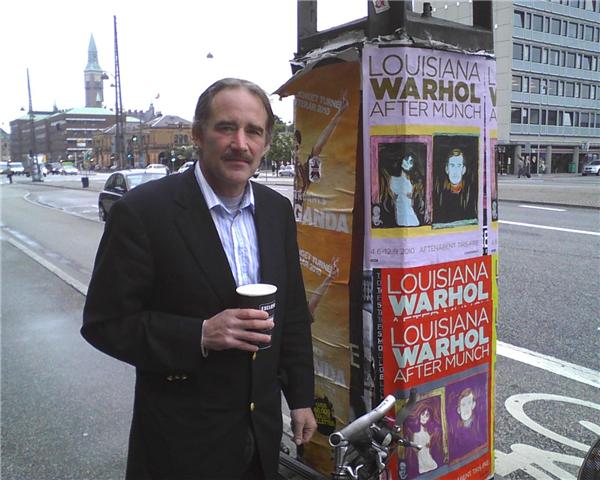 June 2010 in Copenhagen, photo by lls.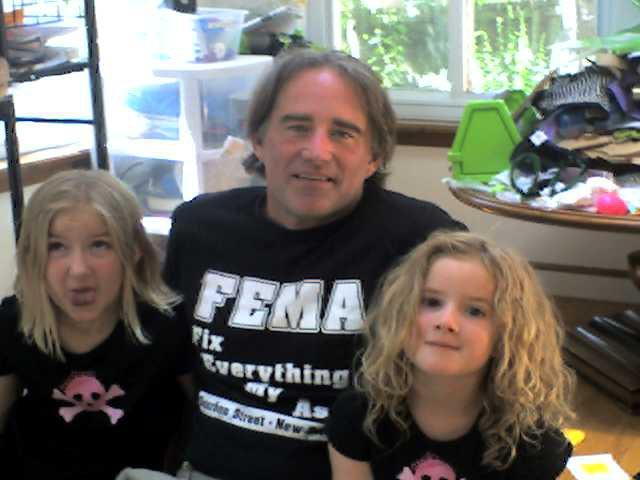 In Denver with my nieces Dorothea and Katie, June 2009, photo by ewf.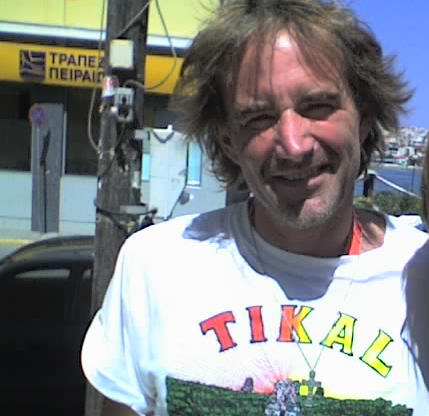 In Greece Summer 2007, photo by N. Time.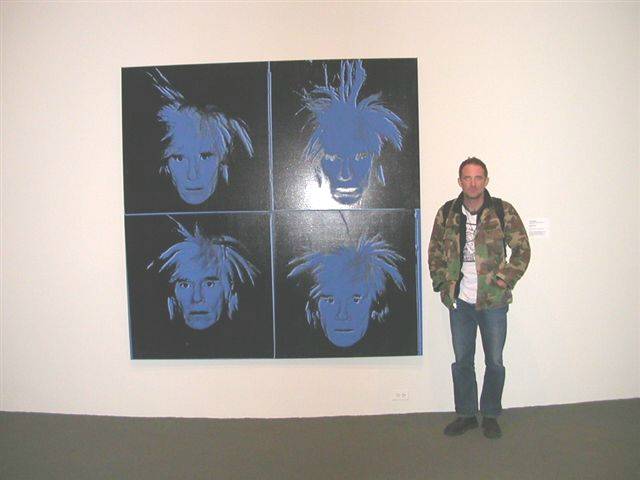 At the Hirshorn Gallery Summer 2005, photo by Ray D.
Most importantly, I have been lucky to have true friends, several of whom are long-lasting and from different walks of life and different parts of the world. My friends are more wise, knowledgeable, talented, creative, forgiving and with better senses of humor than I in many areas (the reason, perhaps, that they are my friends). And for this I am thankful.